Ardour 6.2 released
Ardour 6.2 is now available. Please note that there was no 6.1 release.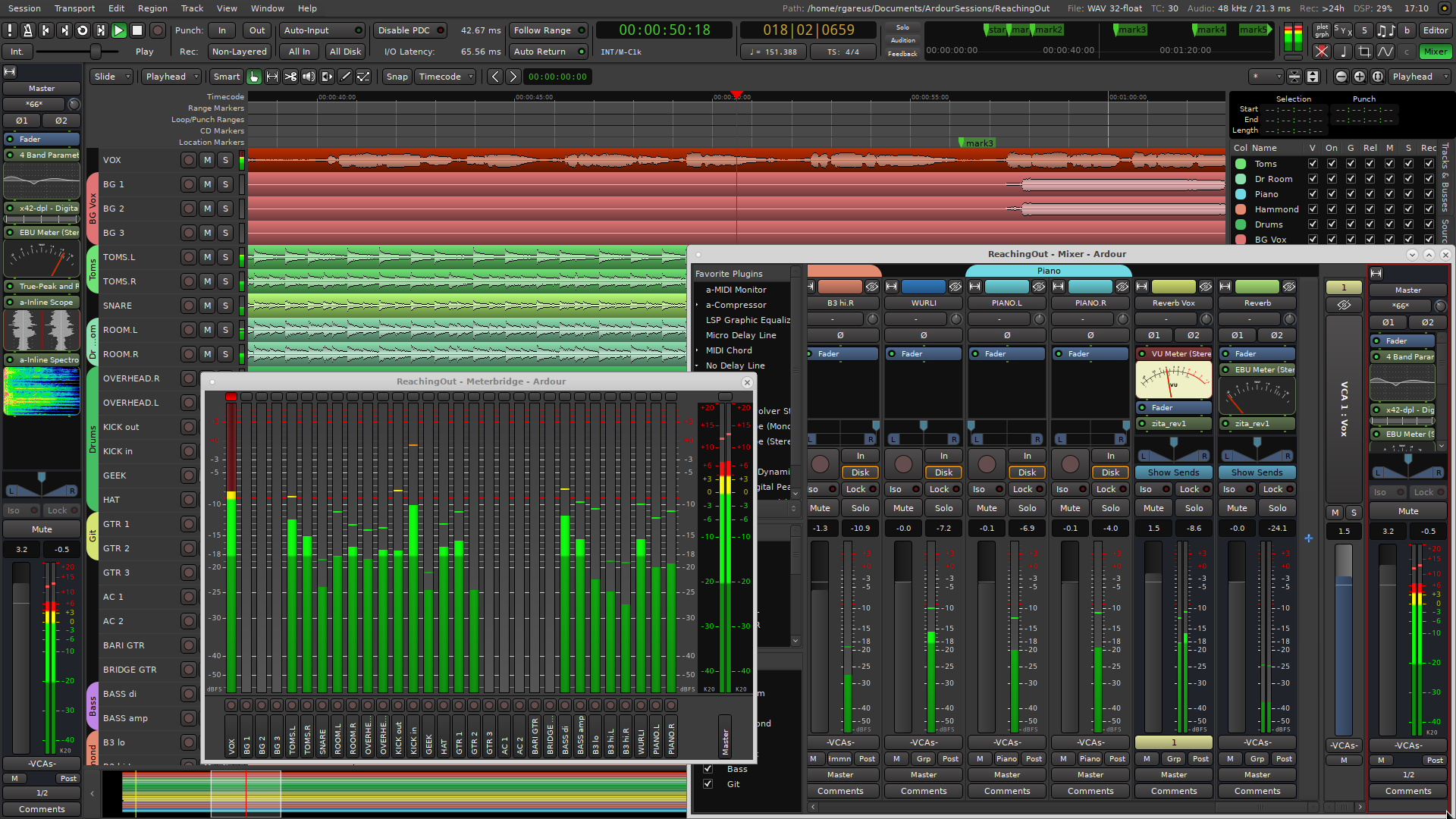 Release notes for other older versions are linked in the list below.
New Features
Plugin list in the mixer view can now toggle between "Favorite", "Recent" and "Popular" (based on your own usage).
"Insert random noise bursts" option in the export dialog allows you to deliver non-publishable mixes to clients for preview.
New option to control placement of ellipses within long track names.
New script to read Scala files and generate MIDI Tuning Standard system exclusive messages.
Improvements
"goto-mark-x" action now available for binding in the mixer.
Certain unconventional and sometimes invisible characters in session names no longer lead to undefined behavior.
"Loop Range" action in marker menu now works as intended.
When carrying out various MIDI editing on linked regions, be sure to apply them only once to the MIDI data shared by all the regions.
Control surface/protocol names now shown in alphabetical order.
Improve situation with deciding on which language to use for translation on macOS when user has more than one lanugage in use.
Improved accuracy for MIDI Clock output.
Keep aux send names when duplicating tracks.
Retain connections to MIDI ports marked for use as control data.
Automatically switch to input metering for MIDI tracks when they are record-enabled (like audio tracks).
Plugin preset is now marked modified when LV2 plugin parameters are modified, even if done directly by the plugin.
man page updated.
Updates to the unastudia theme.
Emphasize beat lines via modified theme colors.
Bug Fixes
Reverse MIDI playback now works (again).
MIDI Clock transport sync now working (again).
Fix display of time in MIDI tracer window for certain kinds of MIDI ports.
Automation write mode now correctly overwrites existing automation (again).
Fix deadlock/crash when adding a sidechain port to a plugin.
Opening sessions from Finder on macOS now works (again).
Deeper handling of thread stack size limits on various Linux distributions.
Fix playback after solo-section has been used.
Auto-play now works after dragging the playhead (again).
Fix audible blips caused by inconsistent monitoring state.
Fix the behavior of automation points when performing a ripple edit.
Numerous other minor bugs fixed.
Control Surfaces
Browser-based:

More compilation compatibility with different versions of libwebsockets.
Improvements in client-side code components.

.
OSC:

Foldback sends can now be pre- or post-fader.
Allow foldback bus duplication.
Strip width feedback added.

New support for the original Contour ShuttlePRO.
Nektar Panorama map should now be visible.
Fix panning knob control/directionfor CC121 and US2400.
New MIDI binding map for M-Audio Oxygen 25 (3rd generation).
Included Plugins
Add Dotted option for a-delay, since dotted intervals cannot be expressed with just integer divisors .
Contributors
Robin Gareus, Paul Davis, Ben Loftis, John Emmas, Daniel Appelt, Len Ovens, Luciano Iam, Matthias von Faber, Mister Benjamin, Nikolaus Gullotta, Nils Phillipsen, cooltehno, Johannes Mueller, Adam Bark
Translators
Hiroki Inagaki (Japanese), Porrumentzio (Basque), Edgar Aichinger (German), Olivier Humbert (French), Vincenzo Reale (Italian)
Theme Updates
Ben Loftis, Cooltehno